Description
This contribute PayPal Adaptive as OpenCart payment gateway to incorporate with Multi-Merchant / DropShipper Core 3.0 module designed by WaaBay.com. The payment gateway has added the ability to Multi-Merchant Core 3.0 to split payment instantly to all merchant at point of customer checkout. The split payment process is automated and intangible to customer.

Requirement
Multi-Merchant / DropShipper Core 3.0 installed

Features
Full automation to split payment directly to all merchant
Auto deduct commission to store admin
Auto add payment records to transaction history
Simple, Parallel and Chain Mode Supported
Fully support multi merchant compatible shipping modules
Tax calculation supported

Demo


Explanation
PrimaryReceiver (Chain Mode)
In a chained payment, the sender pays the primary receiver an amount, from which the primary receiver pays secondary receivers. The sender only knows about the primary receiver, not the secondary receivers. The secondary receivers only know about the primary receiver, not the sender.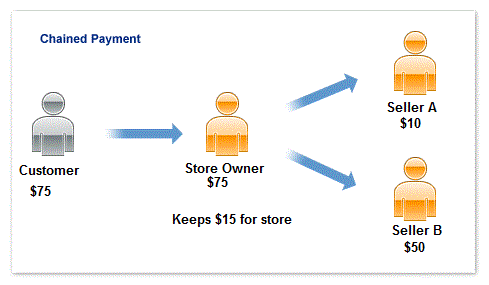 EachReceiver(Parallel Mode)
A parallel payment is a payment from a sender that is split directly among 2-6 receivers. Technically, a parallel payment is a set of multiple payments made in a single Pay request. In these cases, the sender knows the receivers and the amount paid to each one.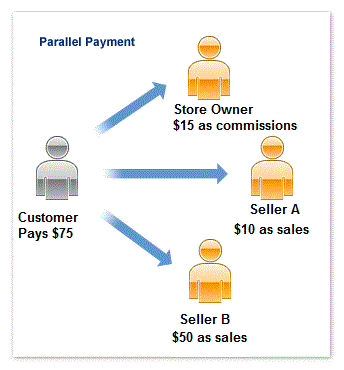 Easy Install
1) Unzip and upload the contents to the root directory of your OpenCart installation
2) Login to administrator page, 'System -> Users -> User Group -> Top Administrator -> Edit -> pp_adaptive (Access/Modify) -> Save.
3) Login to administrator page, 'Extensions -> Payments -> Paypal Adaptive -> Install -> Edit' -> Save.
| | |
| --- | --- |
| Name | Compatibility |
| OpenCart 2.0 | 2.0.0.0, 2.0.1.0, 2.0.1.1, 2.0.2.0, 2.0.3.1, 2.1.0.1, 2.1.0.2, 2.2.0.0, 2.3.0.2 |
| OpenCart 3.0 | 3.0.0.0, 3.0.1.1, 3.0.1.2, 3.0.1.3, 3.0.2.0, 3.0.2.1, 3.0.3.0, 3.0.3.1, 3.0.3.2, 3.0.3.3, 3.0.3.5, 3.0.3.6, 3.0.3.7 |
| Demo Site | Live Demo |