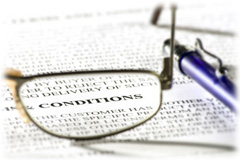 PLEASE READ THE FOLLOWING TERMS AND CONDITIONS OF USE CAREFULLY BEFORE USING THIS WEBSITE. All users of this site agree that access to and use of this site are subject to the following terms and conditions and other applicable law. If you do not agree to these terms and conditions, please do not use this site.
Terms And Conditions
All the modules I create and sell are at very extremely fair price. The modules will be guarantee to work with default OpenCart installation that downloaded from OpenCart.com only. However, there are no guarantee it will work with customization cart that already made. I provide no support or liability to customization cart that caused error after apply my module.
Most of the modules are design to backward compatible within the major revision (Example : 3.x.x.x). The module version sold at that period of time considered a final version you should received. Whenever newer major version is release, I retain the right to determine whether the module are getting free upgrade or new charge will be incurred. This is because the time spend to rewrite the code is equivalent to write a new modules.
Licensing Agreement
All modules purchased can use for one website ONLY (sub-domains act as separate website) and NOT transferable. All modules may not be resold or redistributed by any 3rd party seller. I retain all rights to my code.
Custom Module
All on demand custom module coded by waabay.com are sold as mutual agreement between waabay.com and clients either through email communication or term and condition applied as stated on web site. The module created would be also sold on waabay.com store to other's potential customer but the price would be different. If client preferred to buy off the module, client are required to pay extra amount.

Custom Template
All modules sold at waabay.com are guaranteed to work out of box at default OpenCart theme. We will fix the error if it does not work with default OpenCart theme.Please be aware that we do not take any responsibility if it does not work with custom or third party template due to nature of product designed.You may pay the minimum installation service to hire us to install and integrate it to your custom theme.

Customization Work
Customize work don't entitle download copies and all work direct to online store only. We do not support any third party customization over our module and it will break the support agreement.

Refund
Due to nature of the product, we do not provide any refund for the code purchased. Please read the product description carefully before make any purchased. ASK if you have any doubt.
Currency
We only accept US Dollar and shall accept USD as the official currency for all calculations.
Payment
WaaBay.com accept Credit Card and PayPal payment method only. Buyer are agree that the purchases made from waabay.com with credit card or PayPal will be charged for the transaction fees 4.5%.