The fastest way to grow your business with WaaBay Multi-Merchant Core 3.0 Check out our options and features included.
Multi-Merchant Core 3.0 is the #1 Selling marketplace module on OpenCart Marketplace
Trusted by over 25,000 satisfied users, Multi-Merchant 3.0 became the best-selling marketplace module
in the of one of the world's largest MarketPlace.
Customer Support
We provided unlimited technical support to module fault. Customer satisfaction is our priority. We always listen to customers.
Seller Dashboard
Ease of navigation. Inherit OpenCart simplify, informative and beautiful dasboard design interface UI. Easy to learn and use !
Slideshow
Easily demonstrate own designed creativity by adding slideshow and banner to create unique attractive landing page.
Languages and Currencies
Available more than 200 countries , support up to 25 currencies and ease of multiple languages translation model.
Spotlights
Support unlimited seller accounts and products, various types of commission and major marketplace payment gateway.
Theme
The modules support unlimited third party custom themes. It work wth popular theme such as Journal theme, Revo theme and etc.
---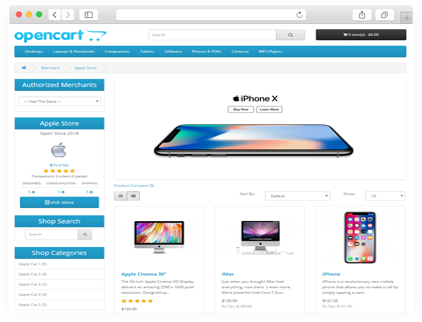 Exclusive Landing Page
Multi-Merchant Core 3.0 support merchant landing page with friendly SEO name. This allowed major search enginee to find the website easily and help to increase revenue. The beautiful landing page UI streamline the site navigation to attract and retain customer in the site. Easy enhance landing page with creative plugins ...
Merchant Logo & Merchant Logo Ex plugins added features like merchant category, seach in shop function, merchant banner and slideshow to attact customer retain longer at website.
---
Major Payment Gateway Supported
With the dominant marketplace payment gateway, you will be able to accept payment almost from any country for your website. Choose your payment gateway and onboard the sub-merchant on the fly, sub-merchant can immediate start to accept payment at point of customer checkout.
Payment Stripe & Wepay can easily onboard the sub-merchant on the fly at merchant dashboard. It streamline the sophisticated algorithm to simplify user experience with professional artwork.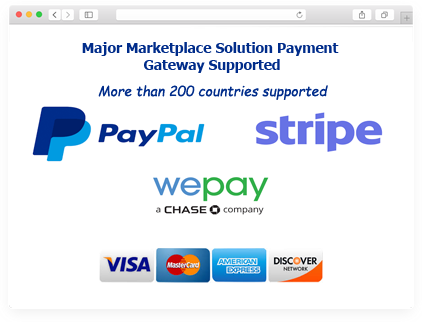 ---
We're not the only ones

excited

happy

about Multi-Merchant Core 3.0 ...
25,000+ customers in more than 100 countries use Multi-Merchant Core 3.0.